Quoting Process
At Wesley Vine Glass Craftsman we provides a free measure and quote for all jobs. Wesley will visit your home to provide the quote. This also gives him the opportunity to discuss the job with you in more detail.
However, depending on the size and/or complexity of your job, you prefer to send us the window sizes and/or a photos via this website or email, as we can often give you a quote via return email.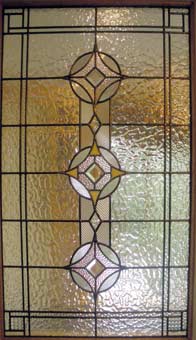 New Windows
For new windows it is usually best if Wesley visits your home to discuss what you would like in order to develop a design to suit you. This will also allow him to take in the feel of your home and observe any distinctive features. This helps to ensure the new design fits in with the style of your home and/or your existing lead lights.
A photo album showing different periods and designs will be presented during consultation to help with the development of your design.
Following the initial consultation, a custom made design will be drawn up to scale depicting the different colours and textures of glass to be used. A glass sample box will be used to help you understand the different textures and glasses that are shown in the design. You may still request changes to the design and colours at this stage.
Leadlights
At Wesley Vine Glass Craftsman we strive to make you the highest quality handmade leadlights and stained glass.
We will not only give you a great design but also the best in craftsmanship and personal service. From the design of your leadlights to the installation, we think about the quality and the structural integrity of your panel so that it will become a feature of your home for years to come.
Many people think that the manufacture of a leadlight is the same from studio to studio. However we believe we offer the highest possible quality of leadlight product for your home so that it will not only add equity to your home but also offer functionality and beauty that only a hand crafted piece of art can do. Please look at the "Why Choose us" page to see more technical information on our product.
New Windows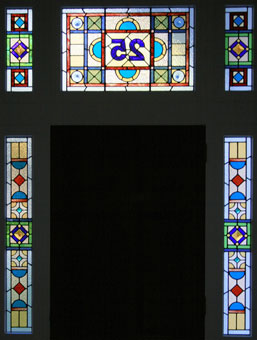 When most people think of leadlights and stained glass they think of traditional homes such as Victorian, Edwardian and Art Deco but leadlights look great in any home from houses that look like gothic cathedral through to new designer homes. We are continuously in discussion with architects, interior designers, builders and home owners on how to fit leadlights into different situations and also comply with the new codes on heat efficiency and Australian Standards for glass and glazing AS 1288.
We are able to produce designs by email and phone but in most cases it is best for Wesley Vine to visit your home to discuss what you would like a in order to develop a design to suit your needs. Designs are priced on the size of the window and the amount of detail in the window. For more information on quoting please visit "The Quoting process" on this website.
Match existing
Much of the work at Wesley Vine Glass is with clients, builders, interior designers or architects working will older homes to reproduce what was originally existing or to tie in with the leadlights that are already there. Leadlights are often used to tie in the old part of the house with the new or to add authentic feature window to the new extension on and older home. To help us with this we have a good selection of reproduction glasses and lead profiles to match most panels almost exactly. We are also in a collaboration with other glass artists to source old glass for repair and reproduction of old panels